Beautiful websites designed to meet YOUR needs
For Motor Trade Enquiries Click Here
About Us
Garagesoft Web Design Nottingham is part of Garage Software Solutions. We started out writing bespoke software for the Motor Trade (hence the name!). Over the years we were asked to do more and more projects outside of the Automotive Industry and websites became a major part of that. We do still cater for the Motor Trade at www.garagesoft.co.uk but the majority of our work now comes from other industries.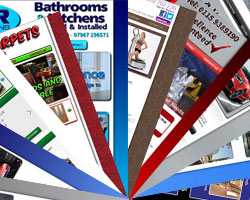 With skills in all the latest web development and programming techniques, including HTML, PHP, ASP, MySQL, CSS, Visual Basic, Java Script, SEO, Google Analytics and much more, we are more than capable of accommodating your needs.
Because we are programmers as well as designers we are able to design your website with all the features you need and add more if they are required. Our sites are fully scalable, meaning that as your business expands or gets busier, your website can accommodate this. We do not use template based CMS systems, such as Joomla or Wordpress (unless specifically requested) so all our websites are coded 'by hand'.
We believe that while the likes of Joomla, Drupal etc. definitely have a place, they are very much like 'Painting by Numbers' for websites. This can easily lead to a decent looking website that has very poorly written code behind the scenes which can badly affect performance and search engine placement. Adding features can also be difficult if they are not supported by the template.
Garagesoft Web Design Nottingham will be with you throughout the whole process and you can have as much or as little involvement in the design as you like. If you have a very specific idea of what your website should look like and what it should do, we can work with you to create exactly what you want. Or if you just need a website up and running and but don't know exactly what you need or how to go about it, we will guide you through the whole process using plain English to ensure you get what you need.
Where are we?
We are based in Hucknall, Nottingham but we can undertake projects from anywhere in the UK.
Why choose us?

We design easy to use, great looking websites.
Having a website is no longer enough - in order to stay ahead of the competition and ensure that your online presence delivers results, you need a website that is technologically advanced, easy to use, and good looking too.

Programmers not just designers
Great design and good, relevant content are the major parts of a successful website but they are not the whole story. If you want your website to have useful features (such as search facilities, rotating banners, photo galleries etc.) this usually requires programming. Especially if you want something a little different to all the rest.

We can improve your Search Engine Rankings with Search Engine Optimisation
Search Engine Optimisation, more commonly known as SEO, is the process of optimising your website in order to ensure that it is listed as high as possible in Google and other Search Engines.